Sarah Spencer (26 Letters) has been designing her entire professional life. After retiring from graphic design in 2005, she started a greeting card line that was picked up by Kate's Paperie, The Museum Shop of Minneapolis Institute of the Arts, birch fine paper, and Century House to name a few.
Enriching her line in 2008, Sarah began painting. Her art has been featured in a half-dozen galleries and showrooms from Beverly Hills to Jacksonville, FL. Her current exhibit "Tree Houses" hangs at the University of Arizona Medical Campus in downtown Phoenix. Fifteen large canvases painted in acrylic are dedicated to every child's dream of having a place of one's own.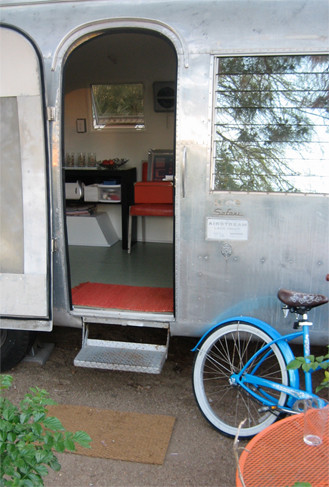 With the fresh remodel of her 1963 Airstream trailer in 2009, 26 Letters was featured in the seminal style blog Design*Sponge and garnered Sarah and her craft trailer worldwide attention.
What's New:
The latest news is that Sarah was called back into action in May of 2011 to bring her highly creative mind and long-standing design abilities to philosophy, the skin care company. She was hired on to concept and design packaging for this prestige skin care line. In addition, Sarah provides support to the entire design team for issues involving packaging. The position offers great of opportunities to be inventive.
That's not to say the trailer now stands idle. Every morning you can find Sarah in the Airstream painting or crafting with her cup of coffee and morning tunes.