Our excitement for music festivals goes beyond the music spilling into our interest in the artistic expressions at every event. At Coachella Valley Music and Arts Festival the installations are epic.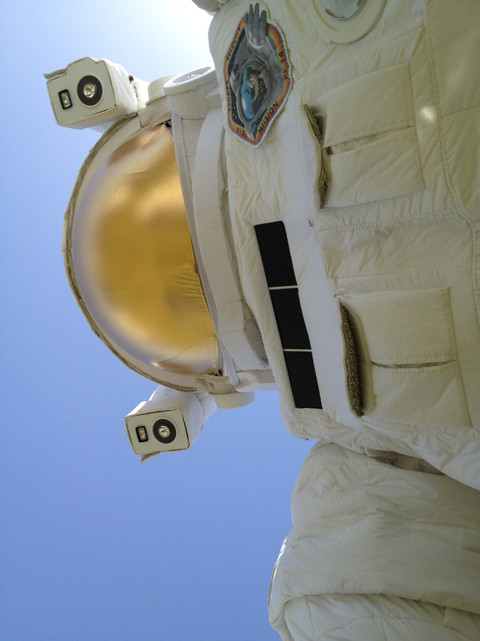 Large-scale installations create a new Coachella Festival skyline each year. They skyscrapers this year consisted of a twisted pink-and-purple light-pretzel, an erect robot, epic strings of balloons and a gigantic astronaut.
Pictured above, the astronaut scoots around on a rolling platform to interact with fans. At night, video images change in his helmet. Designed by the same team who crafted perhaps the most popular art piece in Coachella history—last year's "Helix Poeticus," a.k.a. The Coachella Snail—"Poetic Kinetics" of Los Angeles is setting the standard for temporary public art.
 By far my favorite was the robotic bird. Built by Festo.com and remotely controlled by this guy...
CC and I wondered how many of these fell to their tangled death before the operator could safely navigate the bird in the breezy skies. The movement of this bird are so natural, if not for its size I would have been fooled.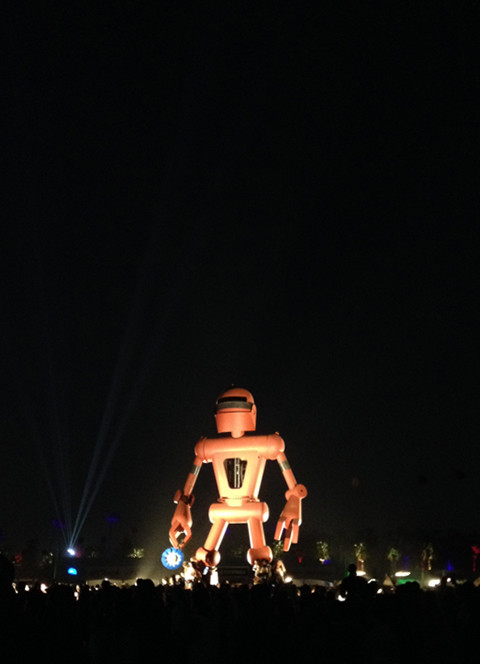 I was charmed by the five-story-high robot "Becoming Human," by Christian Ristow. The Bot holds in his right hand a blue flower that he lifts to his nose throughout the weekend. He is the central point on the festival grounds and the place where we all met if we lost each other.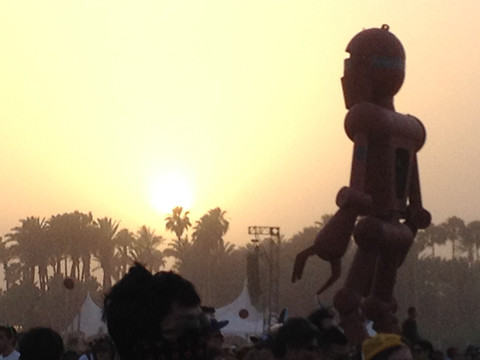 Saturday evening a dust storm blew in and turned the atmosphere to a scene from Mad Max. The wind blew so hard and sustained for so long that all the shade structures in the massive camping area attached to the grounds were shredded or carried away. We were informed that it wasn't as bad as last year...note taken.
Lightweaver, designed by Los Angeles artist Alexis Rochas is a continuous coil of fabric zipped onto a metal structure.
It provided much needed shade on the sunny days.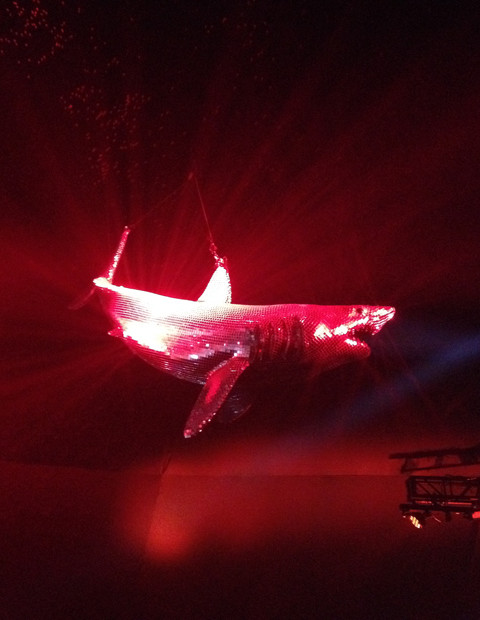 The Yuma tent is an enclosed disco room that we ducked into every day to get our groove on and cool off. Among the disco balls is a disco shark. I don't know what to say...it's so awesome I am speechless. Designed by Kevin McHugh.
Speaking of disco, the Sahara tent is an Ibizia dream come true. On my "Decade 40" bucket list is a trip to Ibizia, the island off the coast of Spain that is party central for dance clubs of the world. And although the tent itself isn's art—albeit impressive—the art is the light shows that accompany the DJs music.
CC and I were so deeply influenced by our immersion in the innovative sights and sounds of Coachella Valley Music and Arts Festival that we literally invented a new product! Look out for announcements in the Fall. Yay!