I recently traveled to New York City to attend the Luxe Pack tradeshow. It is my favorite time of year in the City, the month of May, because the weather is fabulous even if it is raining and the City is at a steady pace and generally in a good mood. Fortunately, we received 75 degrees with sun for five straight days, and there was no better time or place to be. The tradeshow was packed with top tier packaging manufacturers covering all aspects of fine packaging from beautiful booze bottles to inventive cosmetic packaging. It was great to meet new people in the industry and shop for upcoming projects.
In between times we had spans of time to stroll the streets of SoHo. Once day we hit upon the Mondrian Hotel SoHo which has a spectacular bar located in a greenhouse. Since I can't pass up a greenhouse, we had to stop in. Happy hour was upon us so I ordered what I thought would be fitting for a beautiful day in a beautiful city — the No. 5 (Bombay Sapphire East Gin, Maraschino Liqueur, fresh grapefruit juice, fresh lime squeeze and simple syrup with a fresh basil leaf on top for muddling). I found my Summer drink! It was light, refreshing, and perfect as the sun was setting on yet another great day in New York.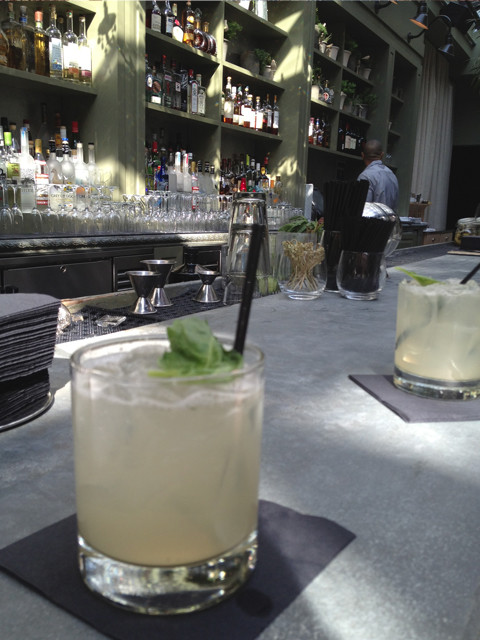 When the show was over and the weekend hit, I was headed up the Hudson to my sister's retreat in Red Hook. There we cooked and crafted and enjoyed the fresh cool weather. I noticed my sister framed and hung in her master bedroom two bird paintings she bought from me a few years ago. It reminds me of my first love of painting and how I need to get back to it. It's been too long!
The last day of my trip, we walked around her property collecting little green things, rocks and sand to make terrariums. My sister was all prepared for us with several jars waiting to be filled with our treasures. It was the end of a great trip I will not soon forget.